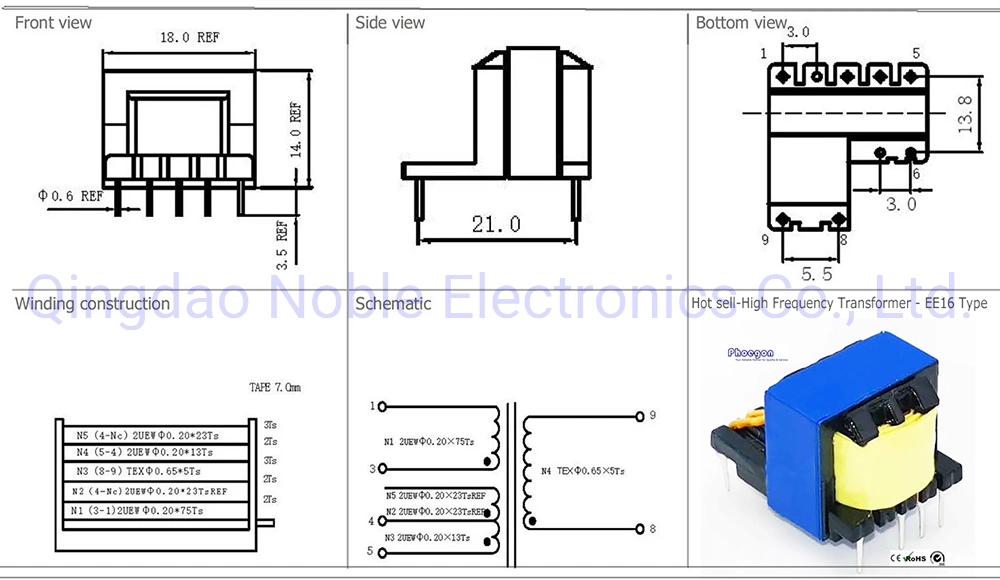 EF16 (EE16) Series Ferrite Core
High Frequency Switch Transformer
UL 94V
-
0
EN61558-2-16
Insulation System (in compliance with):
UL Class B 130ºC
Creepage distance between primary and secondary: 6mm Min.
Electrical Parameter
:

Inductance
(0.1V 1KHz): 990uH+/-10% Terminal (3 --- 5)
Leakage Inductance
(0.1V 100KHz at all secondary winding shorted):
26uH Max.
Dielectric Strength
: (cut off current 3mA):
Type Test

Production Test

Test Voltage (Vrms)

Time (Second)

Test Voltage (Vrms)

Time (Second)

Primary to Secondary Winding

4000

60

4800

1

Pri., Secondary to Core

1500

60

1800

1

Primary to Aux. winding

1500

60

1800

1
DC Resistance
(at 20
ºC
):
P1 (3--4): 0.237
Ω
+/-15%
P2 (4--5): 0.425
Ω
+/-15%
P3 (2--1): 0.0526
Ω
+/-20%
S (6--9): 0.0542
Ω
+/-20%
Insulation Resistance (DC 500V): 100M
Ω
Min.

Environmental Property :
Operating Temperature Range
(including temperature rise of transformer): -20
ºC
to 130
ºC
Storage Temperature Range: -30
ºC
to 80
ºC
| | | |
| --- | --- | --- |
| | | |
| ...click for more details | ...click for more details | ...click for more details |
Schematic Diagram: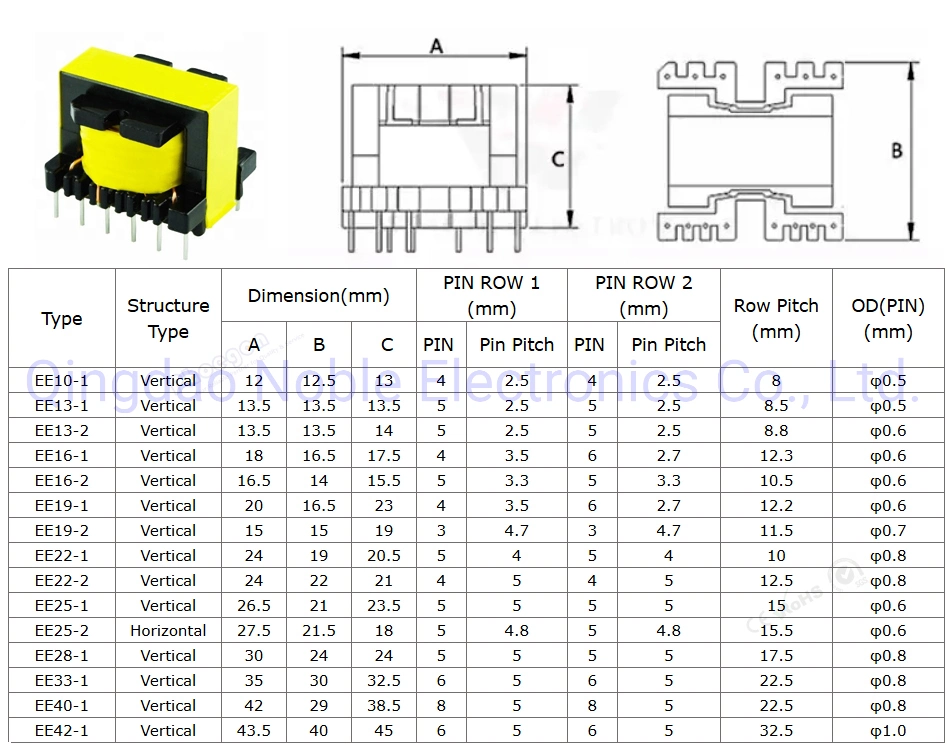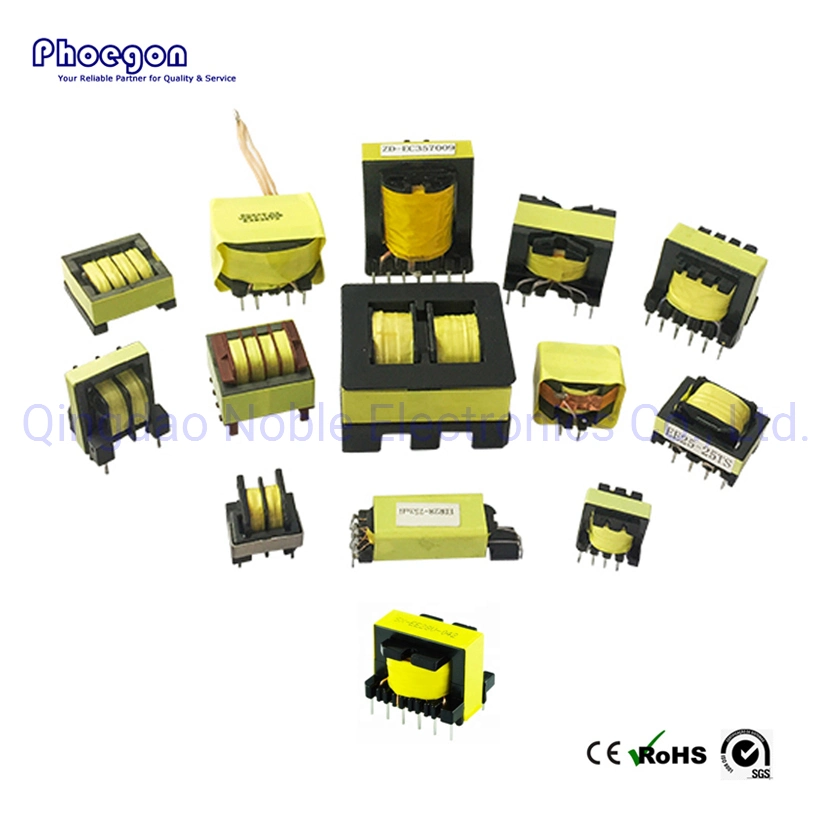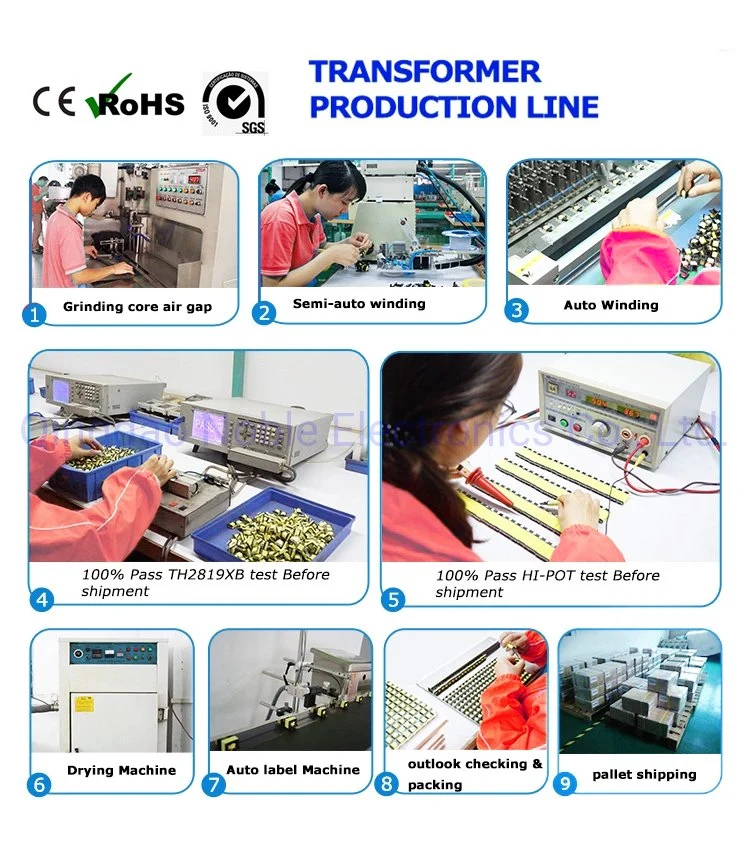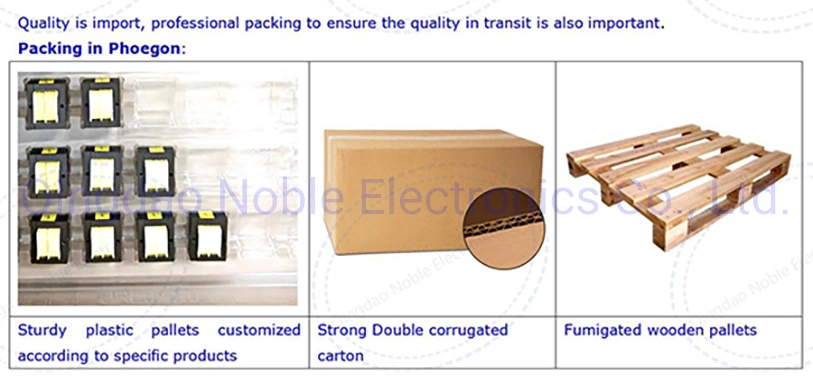 FAQ:
1. Are you factory?
Yes, we have more than 17 years production experience.
2. All goods are tested before shipment?
Yes of course, all goods are tested with different testing machines for different electrical parameter.
3. Small Order Quantity is available?
Yes of course we can. In our history, the smallest order is 5 pcs. For your reference, small quantity means higher prices.
4. Protection of goods is ok for rough handling during transformer from China to your warehouse?
Yes, we have done sound protection measurements for protection.
5. How to be in compliance with UL insulation system?
We use all the materials which is in compliance with UL certification.
6. VDE certification is available?
We can do that once you do need it.
7. Small Size Toroidal transformer (inside is about 10mm) is available?
Yes, we have reliable ability to hand wind such small size transformer. But the time of shipment is normal.