MUST Easy Parallel Function Inverter Power Solar System 4KW Solar Inverter
High Frequency On/Off Grid Hybrid Solar Inverter
PH1800 Plus Series (2-5.5KW)
PH1800 Plus series hybrid solar inverter, it can realize self-consumption and feed-in to the grid from solar energy with best solution according to your setting. During the daytime solar power can run your home appliances and if there is extra solar power it will feed-in to the grid or you can choose to save them on the battery to backup when power failure or nighttime.
Rated Power 2KW-5.5KW
Pure sine wave output
Self-consumption and Feed-in to the grid
Programmable supply priority for PV, Battery or Grid
User-adjustable battery charging current suits different types of batteries
Programmable multiple operation modes: Grid-tie, off-grid and grid-tie with backup
Multiple communication for USB, RS-485, Modbus
Monitoring software & Wifi Kit for real-time status display and control
Parallel operation up to 3 units
SPECIFICATION
MODEL
PH18-2024 Plus
PH18-3024 Plus
PH18-3048 Plus
PH18-4048 Plus
PH18-5048 Plus
PH18-5548 Plus
Nominal Battery System Voltage
24VDC
48VDC
INVERTER OUTPUT
Rated Power
2000W
3000W
3000W
4000W
5000W
5500W
Surge Power
4000W
6000W
6000W
8000W
10000W
11000W
Waveform
Pure Sine Wave
AC Voltage Regulation (Batt.Mode)
220VAC-240VAC(setting)
Electric Current
8.7A
13A
17.4A
21.7A
23.9A
Inverter Efficiency(Peak)
93%
Transfer Time
10ms(For for Personal Computers) 20ms( For Other Home Appliance)
AC INPUT
Voltage
230VAC
Selectable Voltage Range
170~280VAC(For Personal Computers),90~280VAC(For Home Appliances),184~253VAC(VDE4105)
Frequency Range
50Hz/60Hz (Auto Sensing)
BATTERY
Normal Voltage
24VDC
48VDC
Floating Charge Voltage
27.4VDC
54.8VDC
Overcharge Protection
31VDC
60VDC
SOLAR CHARGER & AC CHARGER
Maximum PV Array Open Circuit Voltage
145VDC
PV Array MPPT Voltage Range
30∽130VDC
64∽130VDC
Standby Power Consumption
2W
PV Array MPPT Voltage Range
2000W
4000W
Maximum PV Array
80A
Maximum Efficiency
98%
Maximum AC Charge Current
60A
Maximum Charge Current
140A
MECHANICAL SPECIFICATIONS
Machine Dimensions (W*H*D)
272*355*100 mm
297.5*468*125 mm
Net Weight(Kg)
7.4
14
Package Dimensions(W*H*D)
485*393*251
638*395*241
Gross Weight(Kg)
9.5
16.4
OTHER
Humidity
5% to 95% Relative Humidity (Non-condensing)
Operating Temperature
0°C ~55°C
Storage Temperature
-15°C ~60°C
Packaging & Shipping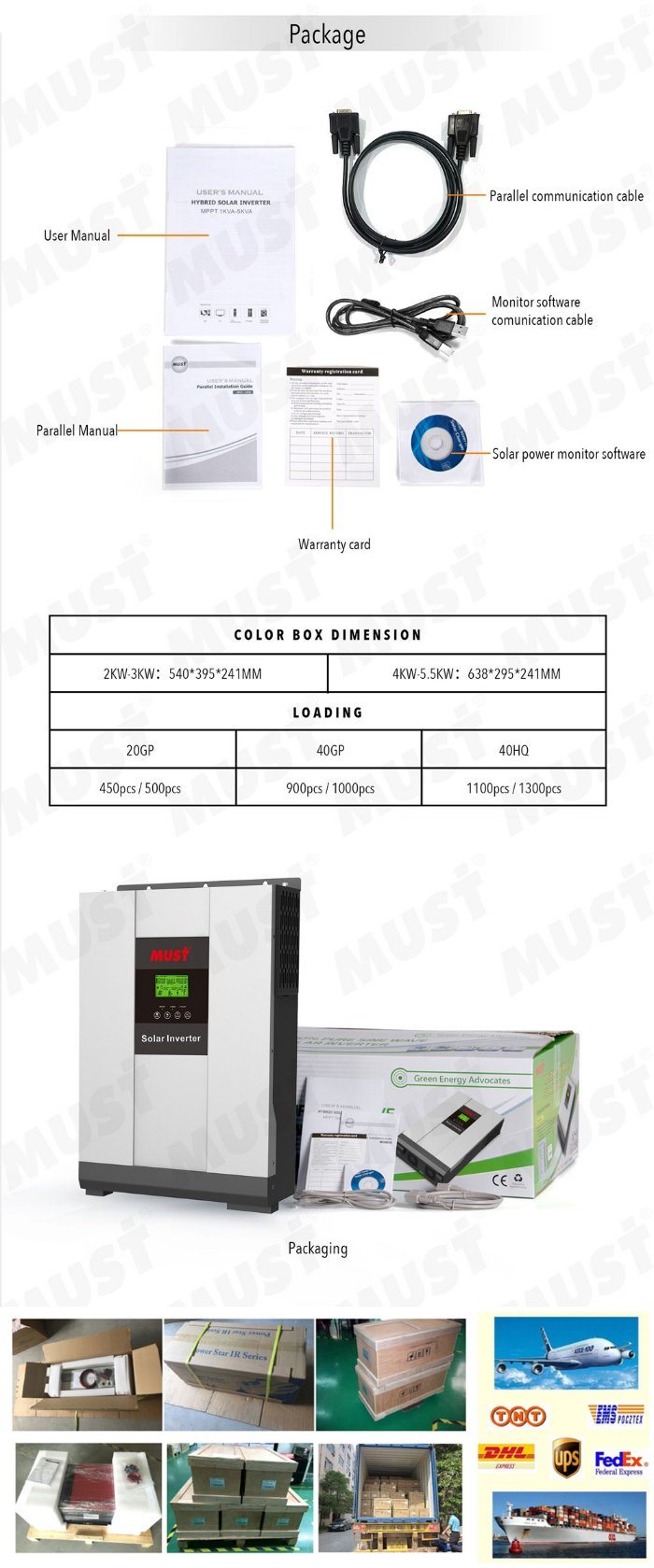 1.Package: Carton Box for packaging, or Wooden Box advised for Samples to protect in transportations. Package designed by Clients is welcomed.
2.Shipping: DHL,FEDEX,UPS,EMS,AirWay and By Sea.
3.Payment: T/T( telegraphic transfer (T/T) and Western Union
4.Welcome to your Sample Order to test First.

Welcome to contact me freely.
MUST Power Limited
Zoey Zou