Power Supply 10-1250kVA Dry Type Step up Transformer /Cast Resin Transformer Factory price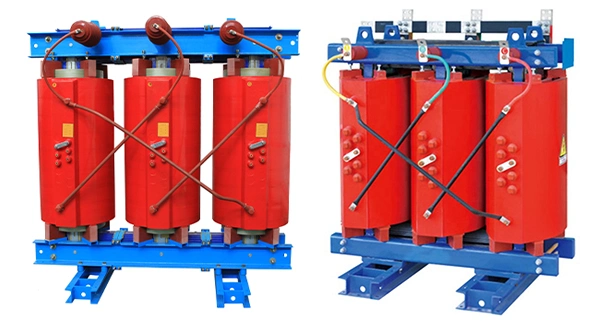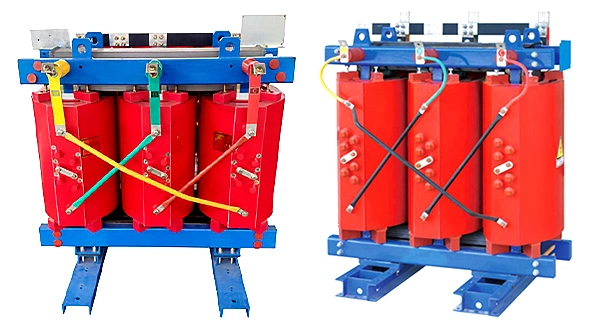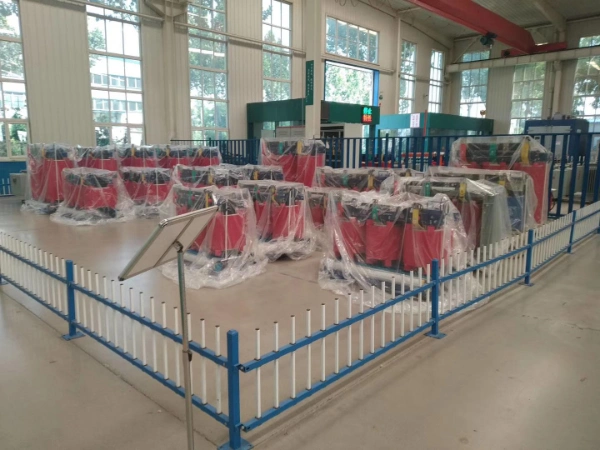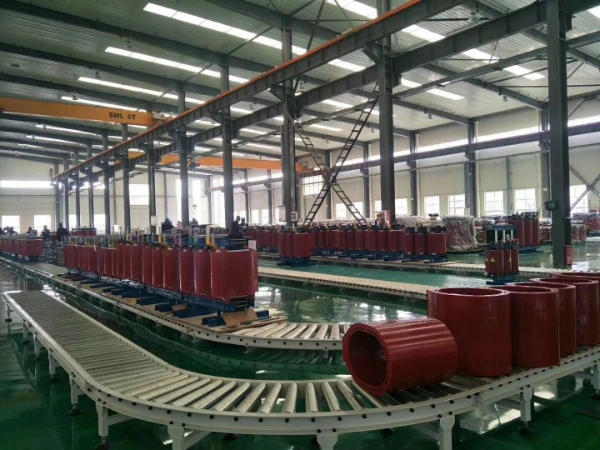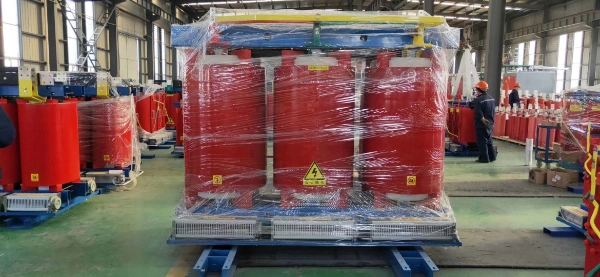 Product introduction




Dry-type transformer has the advantages of large short-circuit resistance, little maintenance work, high operation efficiency, small dimension and low noise, which is commonly used in places with high requirements of fireproof and explosion-proof. This type transformer is widely used in local lighting, high buildings, airports, docks, CNC machinery and others. Its cooling methods are divided into natural air cooling (AN) and forced air cooling (AF). The transformer can operate continuously for a long time under rated capacity under natural air cooling. Output capacity of the transformer can increase by 50% under forced air cooling. It is suitable for intermittent overload operation or emergency overload operation. Due to the load loss and impedance voltage increase significantly when overload, it is not suitable for long time continuous overload operation.
Structural features
1. The iron core is made of high-quality cold-rolled oriented silicon steel sheet, the surface is specially treated with protective resin, and full-inclined seam lamination structure is adopted.
2. The low-voltage coil is of foil winding structure made of high-quality steel foil. The high-voltage coil is of layer structure formed by vacuum epoxy casting technique. Transformers with this type of winding shows low partial discharge compared with similar product ;
3.This model features high mechanical strength, strong short-circuit resistance, good dust-proof and anti-fouling performance. Its service life is longer than
another
dry transformer.
4. The product
'
s beautiful
stainless-steel
shell is durable and can provide better protection for the electrified parts of the transformer. It works well outdoors.
5. With excellent moisture-proof and corrosion-resistant performance, the product is safe, fire-proof and pollution-free. It
'
s especially suitable for working in extremely harsh environmental conditions, and can restart without dry treatment after shutdown.
6. Good heat dissipation performance and strong overload capacity enables it operate with higher capacity when forced air cooling.
Transformer Structure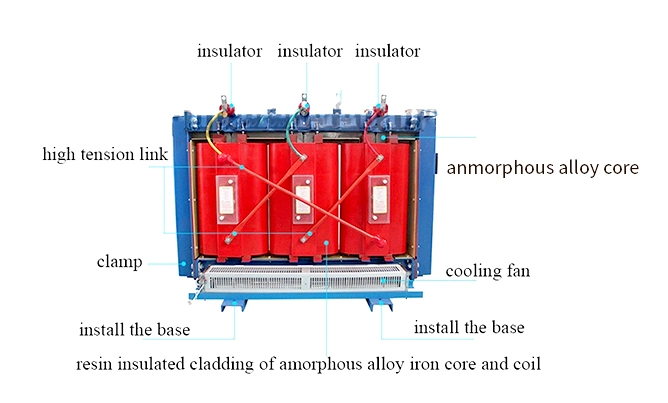 Technical parameters
Rated Capacity (

kVA

)

Type

Vector Group

No-load




current (%)

No-Load




Loss(kW)

Load loss (

k

W)

short circuit impedance




(%)

30

S CB10-30

Yyn0

2.5

0.195

0.71

4

50

S CB10-50

2.2

0.275

0.95

80

S CB10-80

2.1

0.375

1.385

100

S CB10-100

1.9

0.405

1.58

125

SCB10-125

1.8

0.475

1.895

160

SCB10-160

1.8

0.55

2.14

200

SCB10-200

1.6

0.63

2.54

250

SCB10-250

1.5

0.73

2.77

315

SCB10-315

1.4

0.89

3.485

400

SCB10-400

1.4

0.99

4.01

500

SCB10-500

1.3

1.175

4.91

630

SCB10-630

1.3

1.36

5.91

630

SCB10-630

Yyn0




or




Dyn11

1.2

1.315

5.995

6

800

SCB10-800

1.2

1.54

6.99

1000

SCB10-1000

1.1

1.79

8.17

1250

SCB10-1250

1.1

2.115

9.75

1600

SCB10-1600

1

2.48

11.8

2000

SCB10-2000

0.9

3.36

14.535

2500

SCB10-2500

0.8

4.05

17.27
Our workshop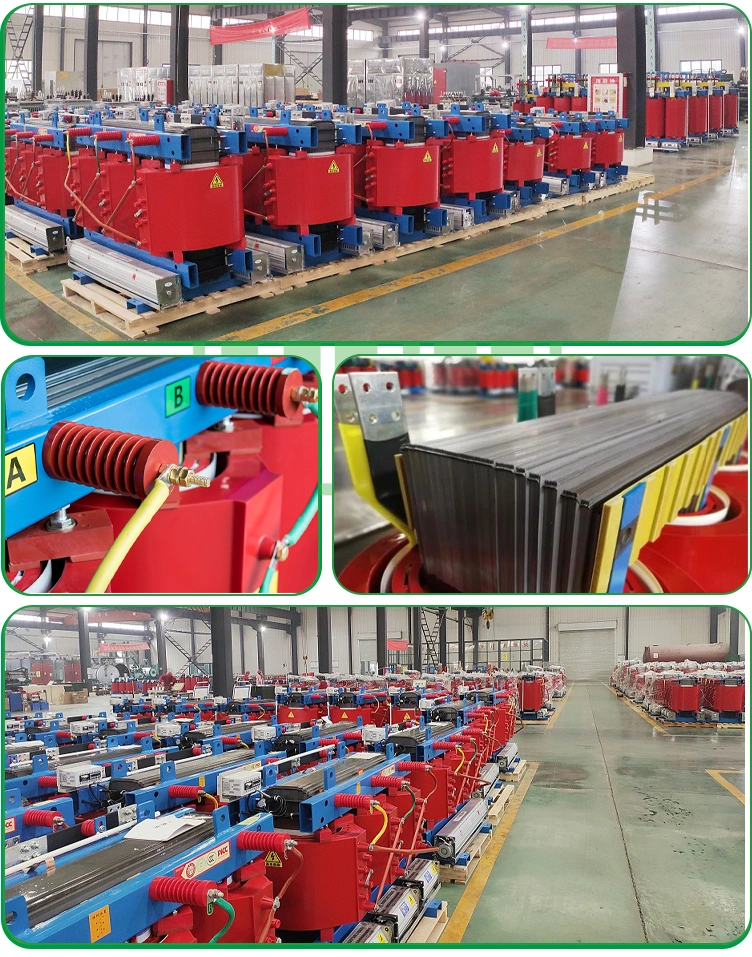 Company Introduction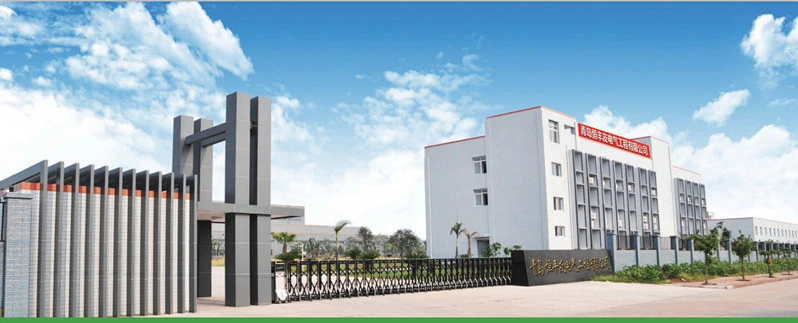 1.Qingdao Hengfengyou Electrical Engineering Co., Ltd. (hereinafter referred to as Hengfengyou) is a large-scale enterprise group with electricity transmission and distribution as its main business,which integrates scientific research, development, manufacturing and trade. After 30 years rapid economy development in China, Hengfengyou now is a leading R & D, manufacturing and service base for MV , HV and ultra-HV power distribution equipment in China. At present,we have 50 senior technicians and more than 300 employees, with a complete sales and service system. Our products sell well at home and abroad, and our annual output value adds up to $100 million. .
2.At present, Hengfengyou has 6 wholly-owned and holding subsidiaries, which are respectively engaged in R & D, manufacturing and service of transformers, switchgear, package/unit substation, pole-mounted high-voltage vacuum circuit breakers, new energy, and electrical engineering. For a long time, the company has maintained close technical exchanges and cooperation with domestic and foreign universities, scientific research institutes and electric power enterprises. Hengfengyou independently designed and developed SCB series dry-type transformer and SC series oil immersed transformer. Our product performs with high operation efficiency, and obvious energy conservation. The overall performance index reaches the world's advanced level. The company also maintains long-term strategic partnership with Schneider, ABB, Simens, Chint and other electric suppliers.
HFY Certificate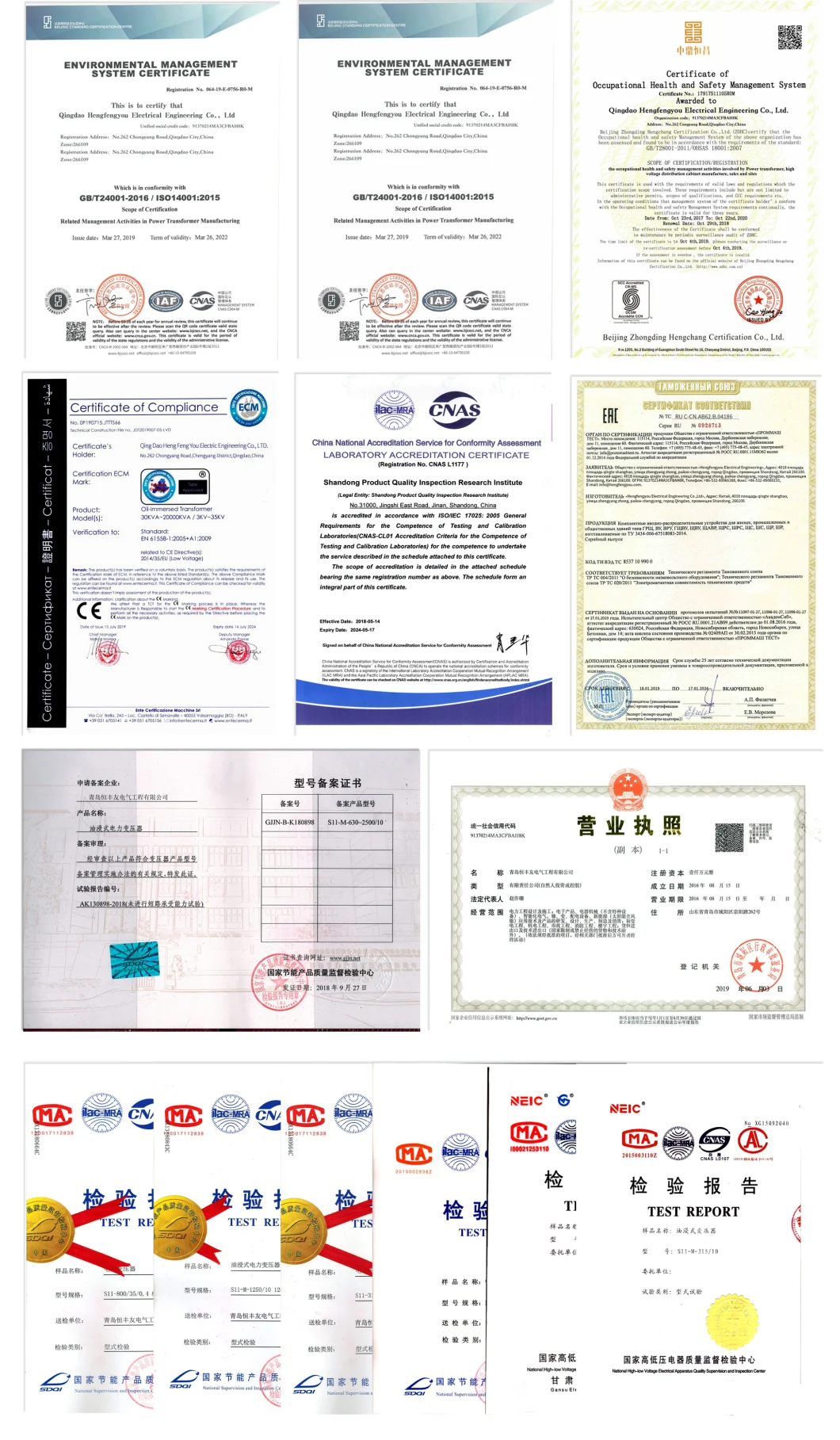 The Finished Power Project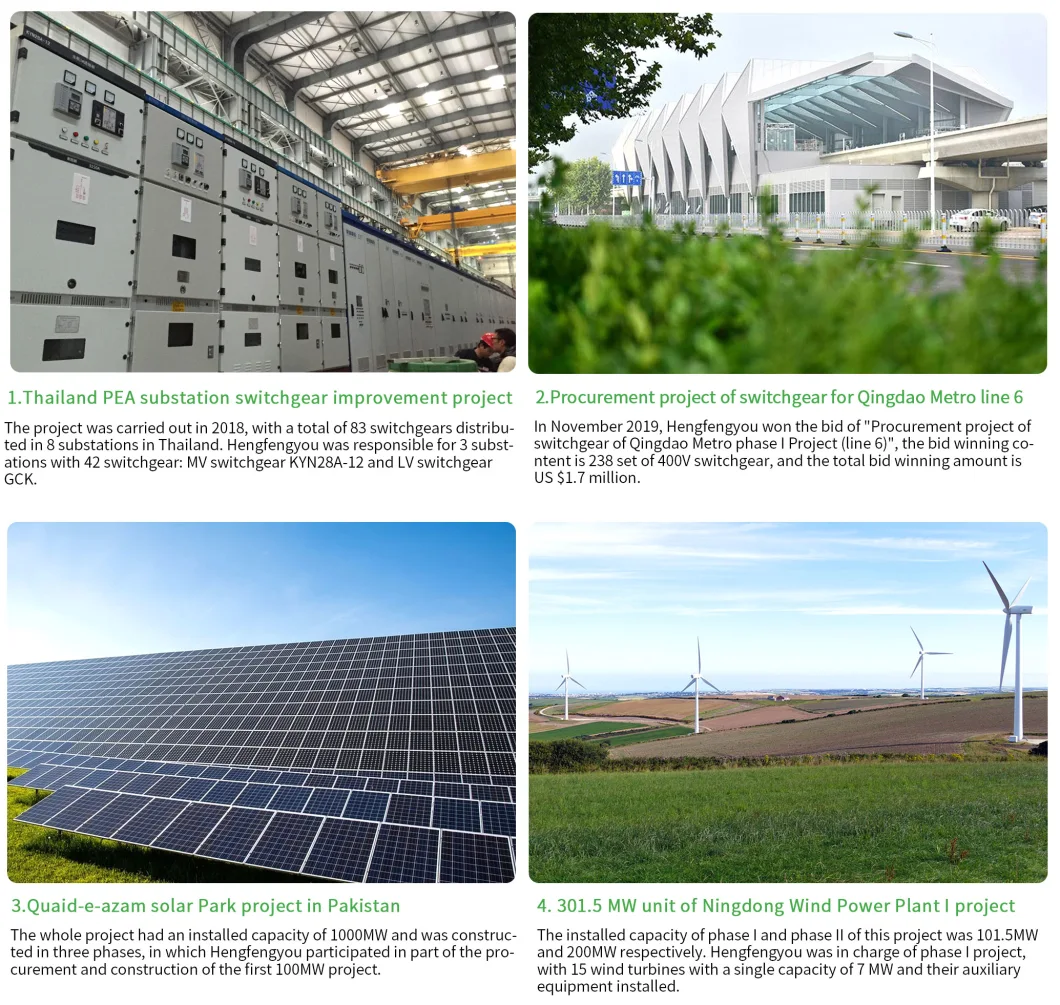 Our Services
We have established strict working procedures and standards in the development, production, sales and after-sales of electrical products, so as to provide customers with first-class products and the best service.
1. Our electrical engineer has more than 10 years of working experience
2.Our workshop workers are all skilled industrial workers who have received three months 'pre-job training
3. Our sales team has been extensively trained by management consultants to provide professional solutions for customers
4. Our technical team can provide customers with 24-hour technical support world wide
5. Our customer service team ensures that orders are delivered on time.

Pre-sale service:
1.ISO certified excellent Manufacturer
2. Third-party authoritative certifications: SGS, CE, CB, CNAS, CQC, CCC, etc
3. Flexible payment: T/T, LC, O/A
4. Sufficient inventory, fast delivery time and long validity of the price
5. The whole process of picture tracking can be realized in production and transportation
6. Experienced professional sales team and a strong technical team
7. Sincerely invite customers to visit the company for guidance

After-sales service:
1. If there is any quality problem after receiving the goods, you can return the goods free of charge or ship new products
2. We provide our customers with a 2-year product warranty
3. Provide 24-hour, 365-day technical guidance worldwide
4. The VIP customers enjoy our promotional activity
The Exhibition And Team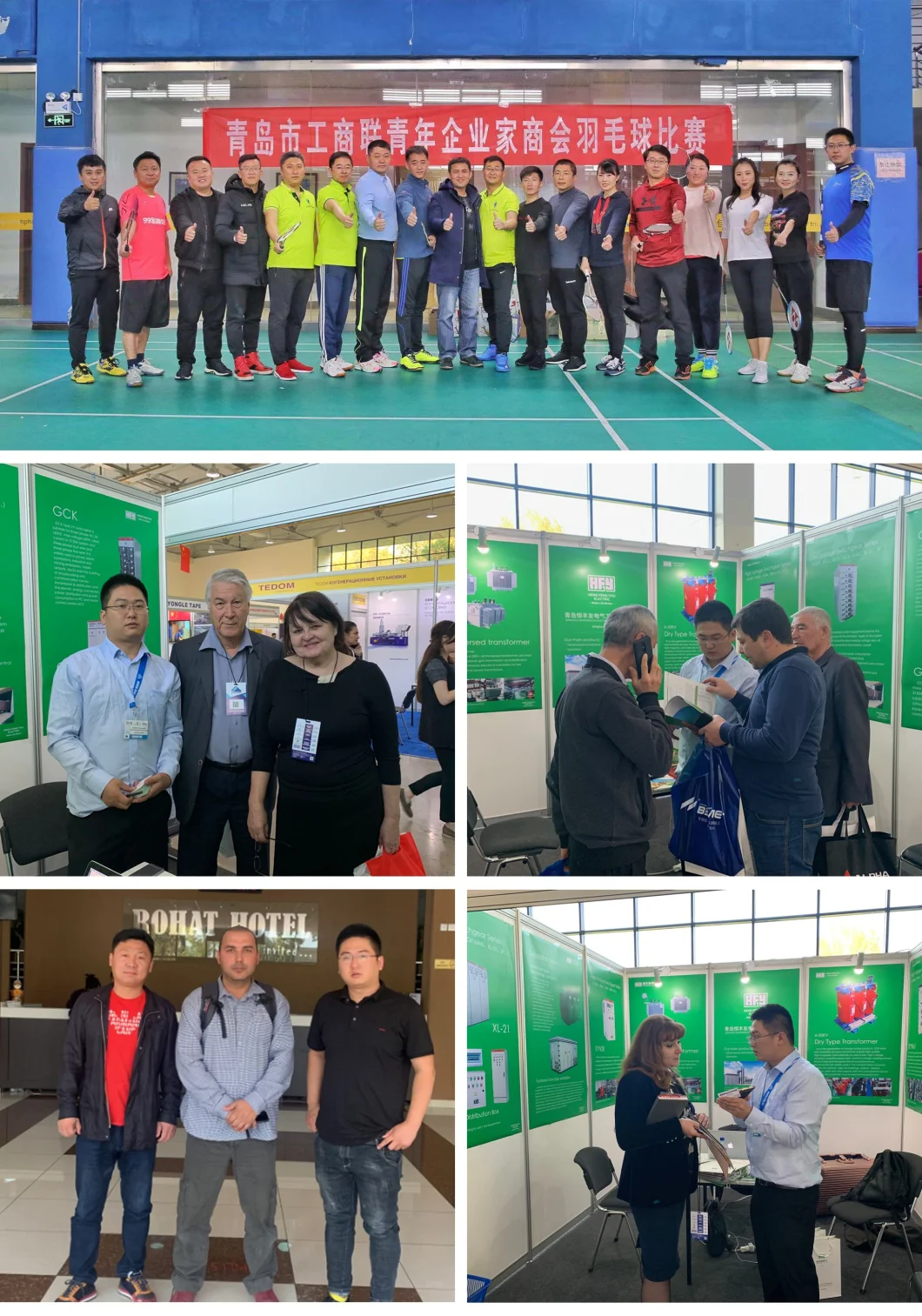 FAQ
Q1: Is OEM/ODM available?
A1: Yes, it is! Our products can be Customized. We have design and engineer teams,we can customize products according to customers' drawing or requirements.
Q2: What's your MOQ?
A2: One Set.
Q3: How is the delivery time?
A3: It depends your order quantity and it normally takes about
15
-
2
0 days.
Q4: How do you control the quality?
A4: We have QC team comply with TQM to ensure the quality. Each step is in compliance to the standards. At the same time, we will take photos and shoot video for you if you need.Every product will be fully assembled and carefully tested before packing and shipping.
Q5: How long is the warranty?
A5: Within one year from the sale date, if there are any accessory problems, you just provide the photos of damaged accessory, then we will provide free accessory. According to the number of products, we will provide easily damaged accessories for free. We also can provide technical support if you need.