Technical parameters



In order to give you the best price, please kindly specify your requirements as clearly as possible.





OEM and ODM is welcome, we have professional and experienced engineer team for you.





We can customize the transformer substion as customers' requirements , and quote by the drawing/single line diagram (SLD) or the technical datas .
HV Unit

Rated Frequency

Hz

50

Rated Voltage

kV

10(6)

Maximum Working Voltage

kV

12

Power frequency withstand voltage
Phase to phase,over the ground/isolating distance

kV

42/48

Lightning Impulse Voltage
Phase to phase,over the ground/isolating distance

kV

75/85

Rated Current

A

630

Rated Short-time Withstand Current

kA

25/1S

Rated Peak Withstand Current

kA

31.5

LV Unit

Rated Voltage

V

400

Rated Current of Main Circuit

A

100-2500

Rated Short-time Withstand Current

kA/S

50-80/1S

Rated Peak Withstand Current

kA

32-220

Branch Current

A

10-800

Branch Loops

Loop

1-12

Compensating Capacity

kVAR

0-320

Transformer

Rated Capacity

kVA

50-1600

Impedance voltage

%

4 4.5 6

Tapping range

+/-5% OR()+/-2*2.5%

Connection

Yyn0 or Dyn11

Cabinet

Level of Protection

IP33

Anti-noise Level

dB

<55

Introduction

PMAP Series transformer is a kind of set of equipment which assembles the MV switch apparatus, transformer, LV distribution equipment together according to fixed connection scheme. This series substation is suitable for neighborhood unit, hotel, large-scale work site and high building.

1. Chassis:
Made of standard industrial groove steel, angle irons welded together. It has features of reasonable
design. It is anti-corrosion, anti-rust and chemical surface treated. It is suitable for integral lifting.

2. Wall:
Made of national standard industrial construction materials. Applies alkali-proof fiber glass reinforced
special cement and other additives and lining of steel structure skeleton. It has features of bending resistance,
tensile strength, easy maintenance, beautiful configuration, good compact resistance, weather proof, anti-
corrosion and high completeness.
The pollution grade is suitable forIII grade. The protection grade is IP32DH
and it can withstand strong external mechanical impact.
The ventilation grid and aluminum alloy shutter
effectively reduce the temperature rise from sunshine and equipment operation.
The external can be decorated
with cultured stone, glazed brick and other beautiful materials.

3. Top cover:
The top cover is steel skeleton prefabricated of high strength and good rainwater proof property.
It is of movable top cover. It is easy to lift.
The external configuration has many types like flat top, antique type,
ridge type and villa type. It can be designed as per client requirements.

Selling Point:
1. Equipped with 3D wound iron core transformer
2. Complete set, can penetrate into the load center, improve power supply quality
3. Reduce transmission loss, Shorten the period of power transmission, Low no-load consumption and current
4. Three-phase equilibrium, Low noise, low third harmonic, small size
5. Flexible for installation, Strong adaptability to the environment, convenient installation, reliable
6. Compact structure, Small volume and high mechanical strength, maintanance free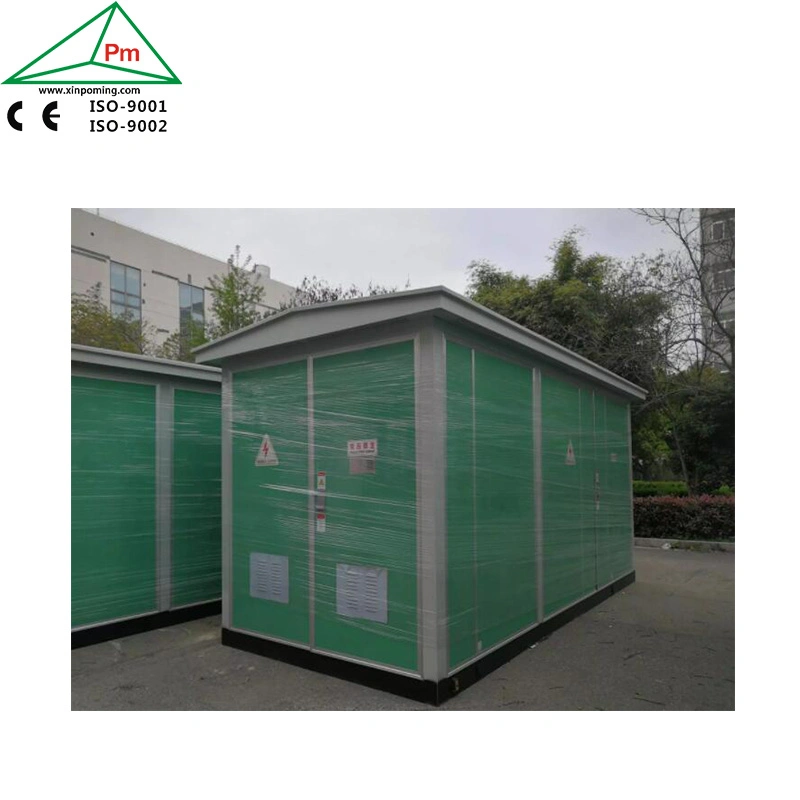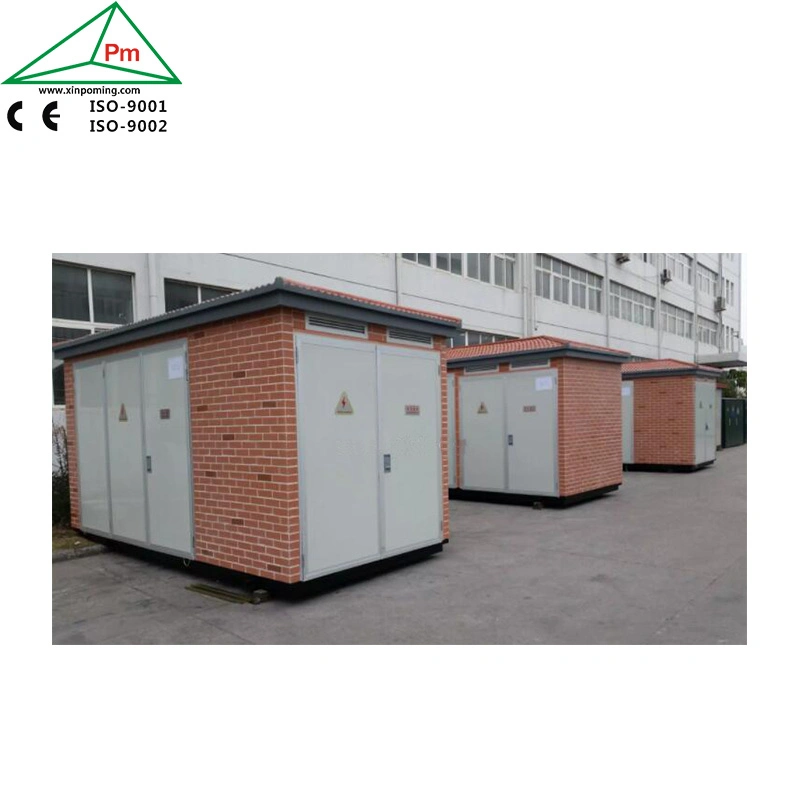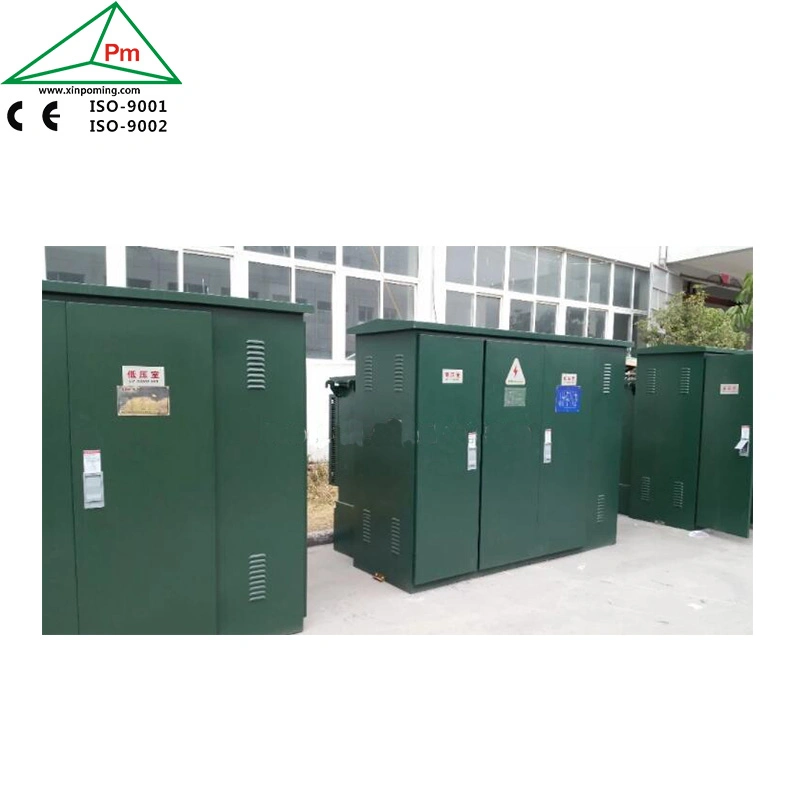 Service environment
1. Attitude:no more 1000M
2. Ambient temperature: the highest temperature:+40°C, the highest monthly mean temperature +30°C, the lowest temperature -10°C, the hight yearly mean temperature +20°C,
3. Installation environment: inclination of installation place<3, no obivious dirt and corrosive or flammable gas


Quality Control & Certifications:

Warranty: 1 year after B/L date;

With more than 10 years experience, we produce A-Grade voltage stabilizer/regulator and can offer OEM & ODM service. All our products have CE certificate and some have obtained patent.

Before leaving the XINPOMING factory, every transformer must pass a series of rigorous tests, performed with advanced equipment, on a range of measurements.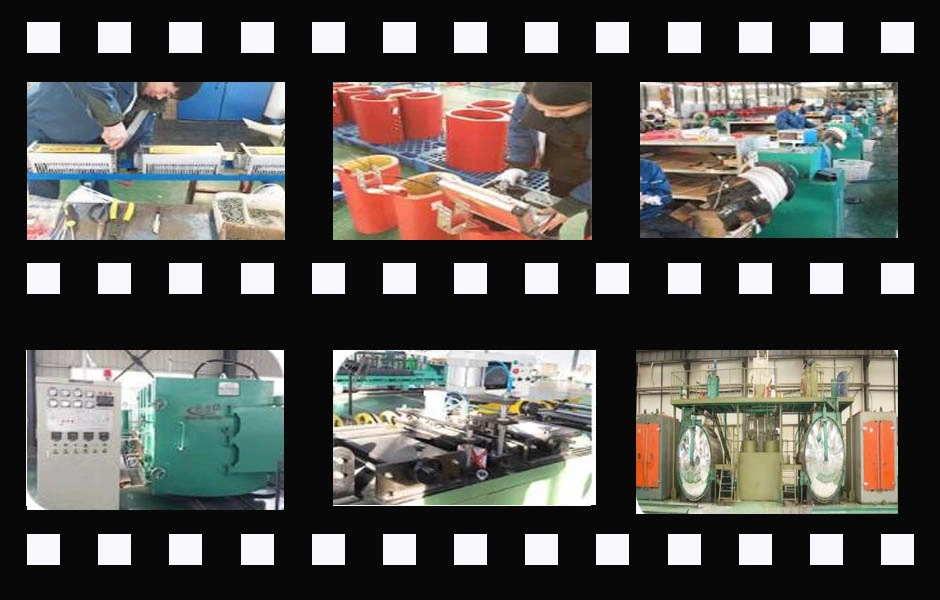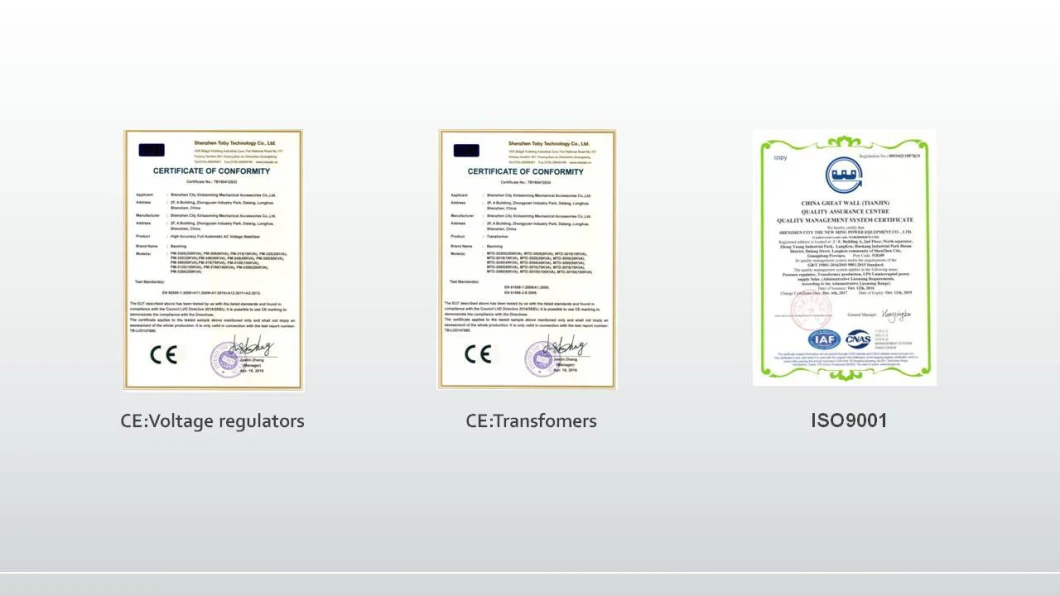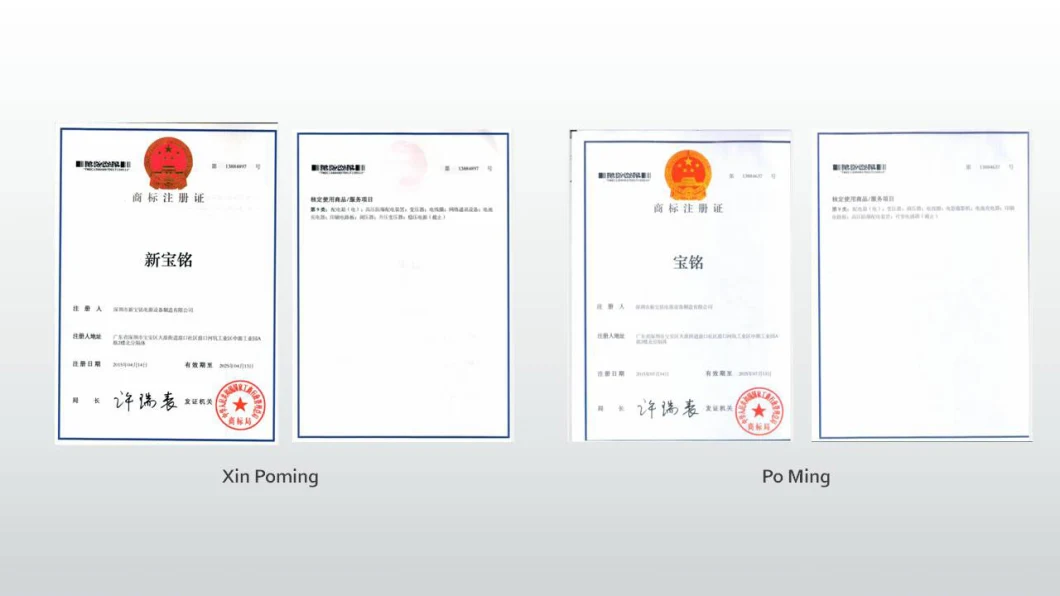 About us
Shenzhen Xin Poming Power Equipment Manufacturing Co., Ltd is established in Guangdong Province of China in 2007, which manufactures and sells voltage regulators, transformers, UPSs, frequency converter, DC power sources and other power products and can provide systemic power solutions for customers with it's complete product list For clients around the world .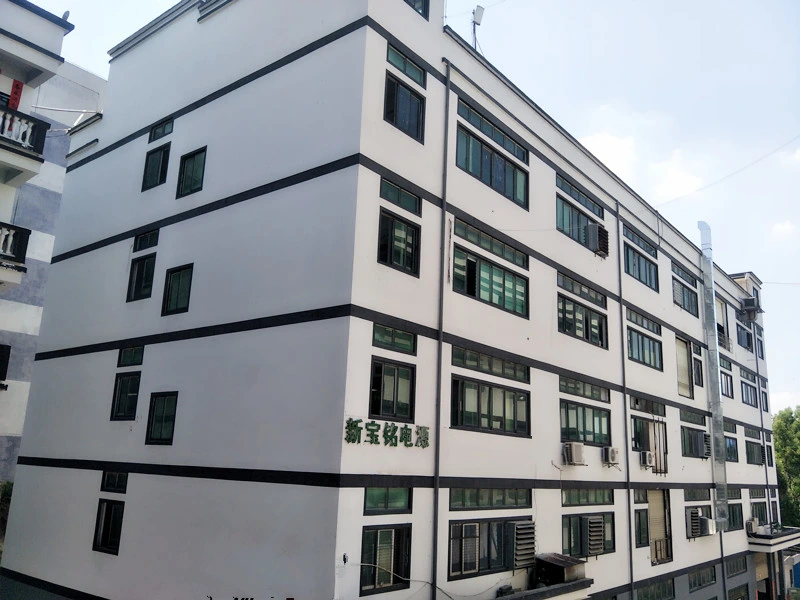 Our Service
1, Pre sale service
(a). make technical solution
(b). send quotation, technical data sheet and drawing
(c). prepare power transmission plan, testing plan and shipment plan.
2, In sale service
(a). supervise the manufacturing schedule totally in accordance with the plan
(b). send photos to customer during every manufacturing process(hold point)
(c). inform the customers one week before testing.
3, After sales service
(a). installation and commissioning, training the workers
(b). quick response within 12 hours any time.
(c). provide 12 months guarantee period normally.
Our main products:
We produce all kinds of A-Grade power auxiliary equipment. Like:
Voltage regulator/stabilizer;
Voltage transformer;
UPS;
Reactor;
Frequency converter;
All products accept custimzation, no matter for the capacity or the appearance. 1 piece is OK for the minium order quantity.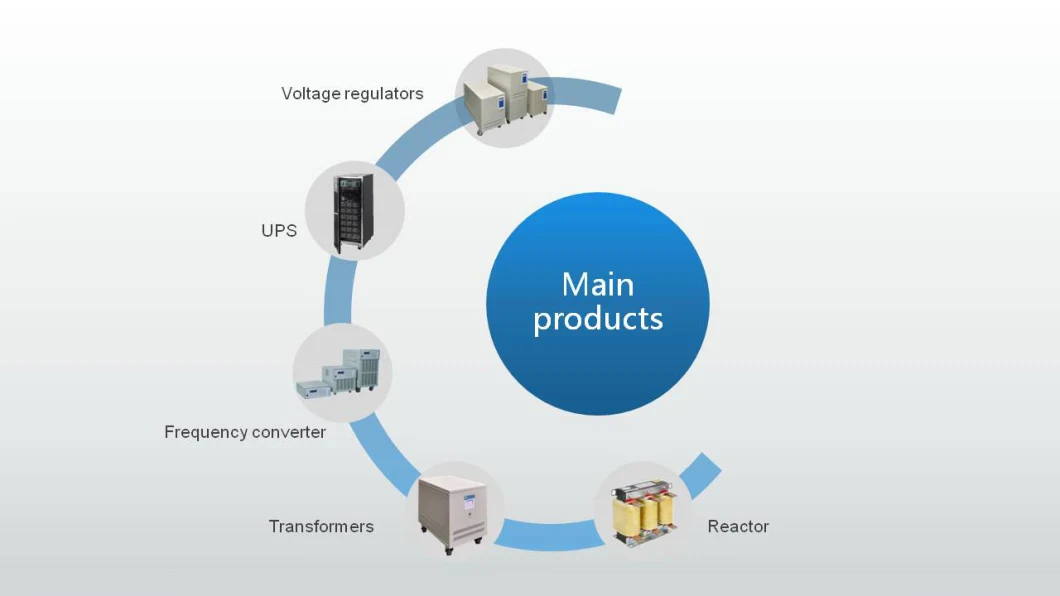 FAQ(Frequent Asked Qestions)
Q1: What is the MOQ ?
A1: 1 set.
Q2: Is OEM/ODM available?
A2: Yes, it is! Our products can be Customized. We have design and engineer teams,we can customize products according to customers' drawing or requirements.
Q3: Can we put/show our own Logo on your products?
A3: Yes.
Q4: What is the Terms of Payment?
A4: T/T, Western Union.
Q5: Can you offer Form A or Form E or C/O ?
A5: Yes, no problem, we can apply for it from our local government.
Q6: How is the delivery time ?
A6: It depends your order quantity and it normally takes 3-20 days .
Q7: How long is the service life ?
A7: It is 20-30 years.
Q8: How long is the warranty ?
A8: Within one year from the sale date, if there are any accessory problems,
you just provide the photos of damaged accessory, then we will provide free accessory.
According to the number of products, we will provide easily damaged accessories for free.
We also can provide technical support if you need.You're welcomed to contact us for any questions.