EI Type Power Frequency AC DC Power Supply Welded Lamination Core Transformer

More details
Input Voltage:
AC 100V/110V/115V/120V/220V/230V/240V;50/60Hz to be customized
Output Power:
1.0VA -500VA to be customized
Products Advantages:
3.High Transmission Efficiency
9.It can be customized according to the requirements of customers and provide total design solutions to customer
Application:
5.Other Industrial application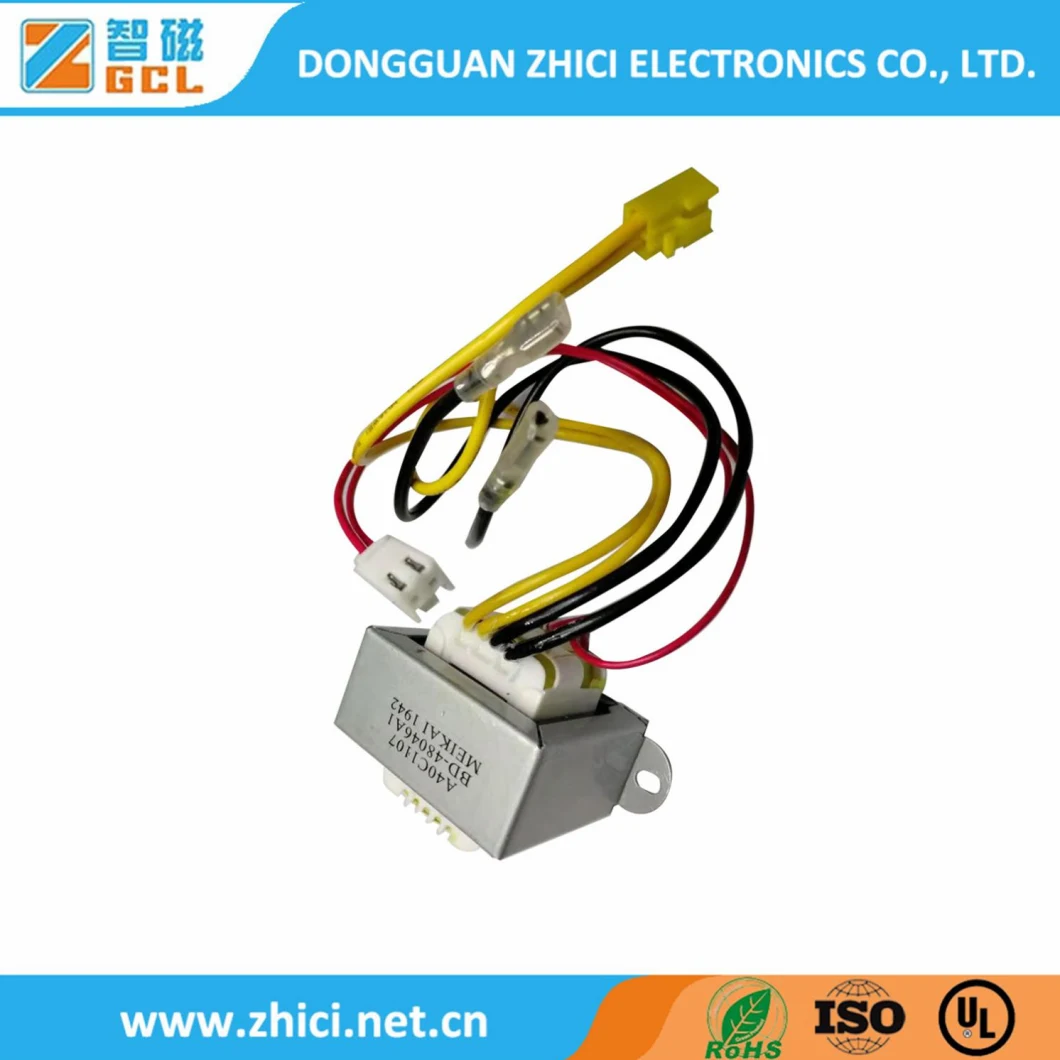 Spec

Size

(

mm

)

Power Range(VA)

A

B

C

D

Ei-28

53.0

41.0

16.0

30.0

2.5 Max.

EI-35

60.0

48.0

24.0

35.0

5.0Max.

EI-41

68.0

55.0

28.0

37.0

12.0Max.

EI-48

74.0

60.0

34.0

46.0

22.0Max.

EI-54

84.0

68.0

34.0

49.0

28.0Max.

EI-57

86.0

71.0

41.0

52.0

40.0Max.

EI-66

95.0

61.0

61.0

81.5

140.0Max.

EI-76

105.0

71.5

74.5

91.0

200.0Max.
About our factory
GCL ALLIANCE ELECTRONICS Co., Ltd
(HQ) is a professional transformer, inductor, filter, coil, current sensor etc manufacturer with over 16 years of manufacturing experiences, We are ISO 9001, ISO 14001, IATF16949(is one of the few Transformer manufacturers that acquired IATF 16949 qualification for automotive industry) CQC, UL certified.

We Had 2 production bases in China, one is Dongguan Zhici Electronics Co., Ltd, located in Guangdong, The other is Yongzhou Meikai Electronics Co., Ltd located in Hunan, we are going to build factory at Vietnam by end 2020, to better serve delivery to South East Asia and USA customers.

Our HQ Dongguan Zhici is focused on management, R&D Engineering, Sample Run and the related test on site, NPI, and full automation production, what′s more, we established an independent laboratory for automotive parts which can perform AEC-200 Test Report by itself.

To help our customers to better compete in this demanding economy, our Yongzhou Meikai factory offers lower production manufacturing cost for high volume product.

We enjoyed a high reputation and keep reliable cooperation with global valued customers such as Panasonic, Funai, Cosel, Honeywell, Jabil, Otis, Future, GE, TCL, Resideo, ABB, Checkpoint, Eaton.

Vision: To be one of the World′s leading partner in magnetics products

Mission: To provide quality products at market competitive cost to our value customers, Versatile in our work and design to meet all customers′ demand

Core Values: People, Integrity, Innovation, Team Customer Centric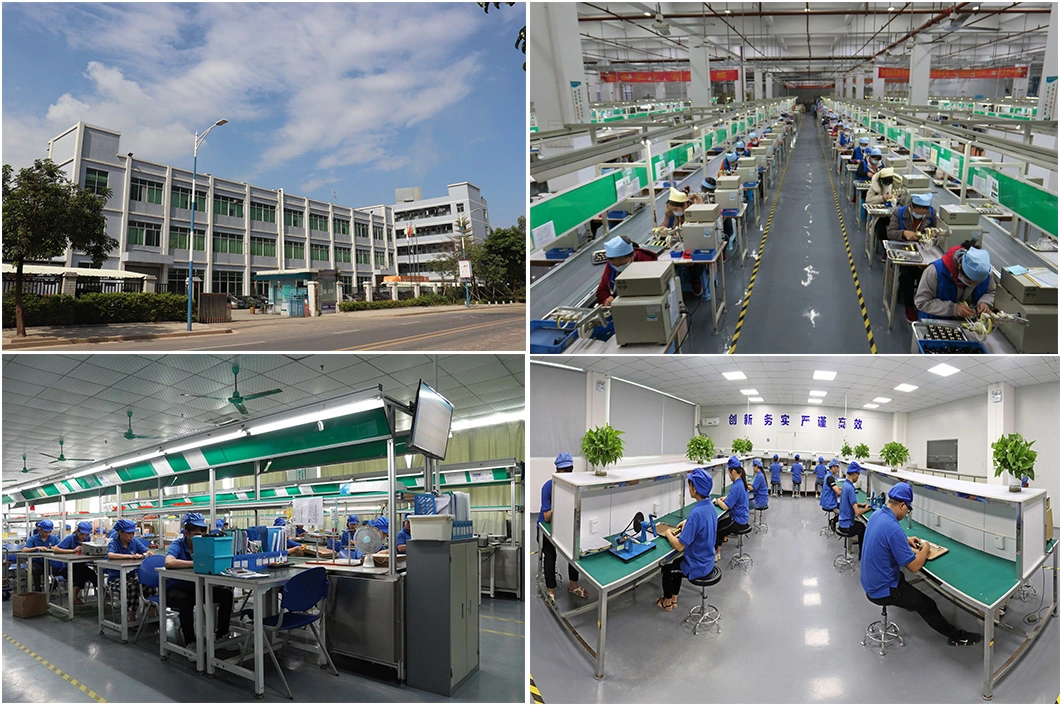 Customer feedback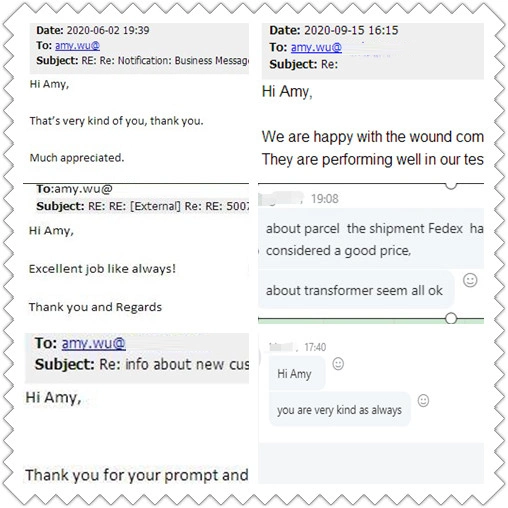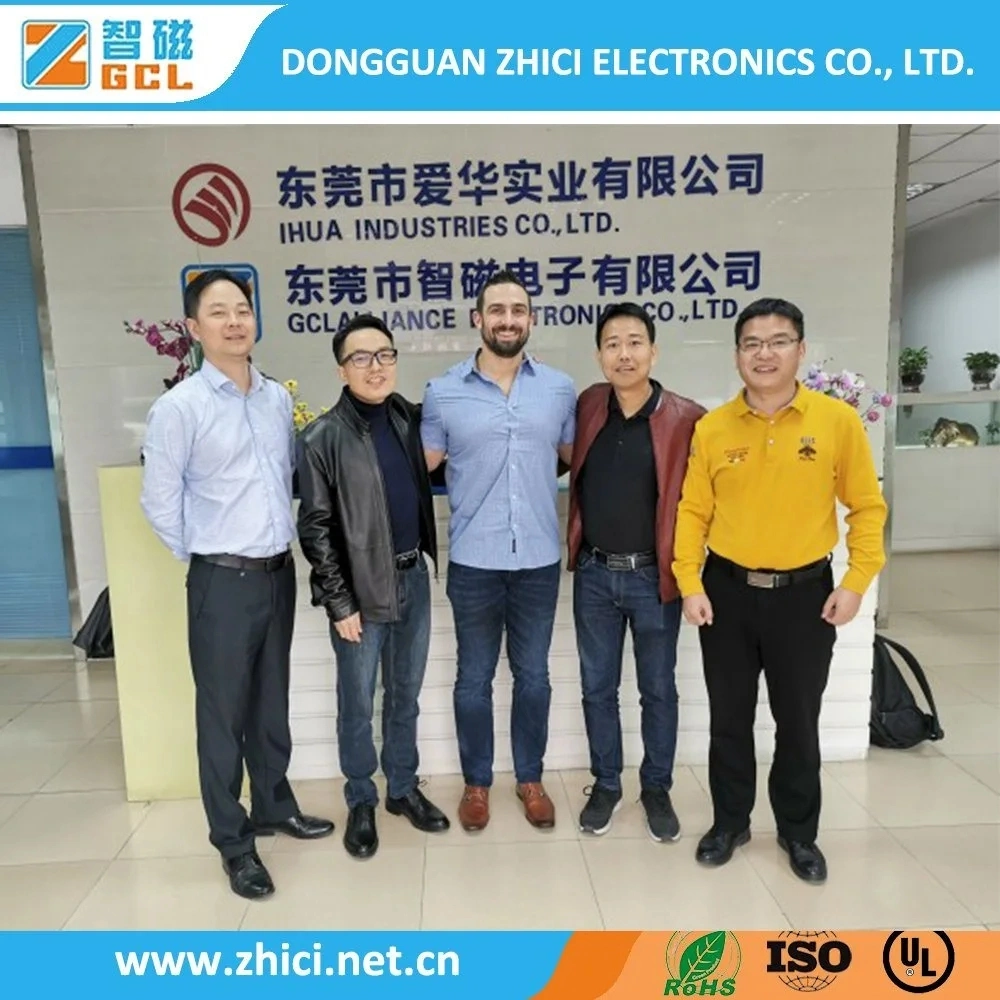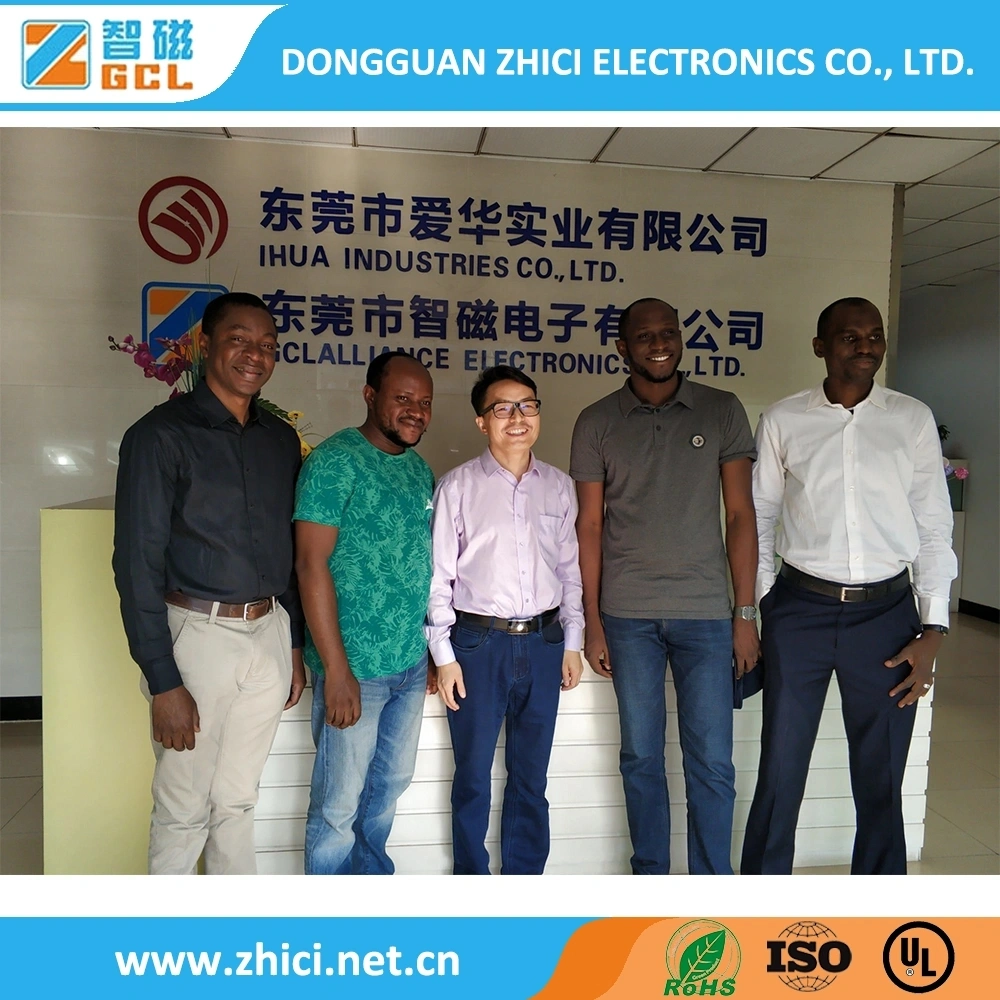 Our products
NO.

Product Name

Type

Detailed Size

1

High frequency transformers

EE

EE8.3, EE10, EE13, EE16, EE19, EE20, EE25, EE28, EE30, EE33, EE40, EE42, EE49, EE50, EE55, EE60, EE65, EE70, EE75, EE80, EE85

EC/ER

ER/EC20, ER/EC25, ER/EC28, ER/EC28, ER/EC29, ER/EC35, ER/EC40, ER/EC42, ER/EC49

ETD

ETD29, ETD35, ETD40, ETD49

EF

EF16, EF20, EF25

EFD

EFD15, EFD20/21, EFD25/26, EFD30

EDR

EDR2009, EDR2037, EDR2809, EDR2828, EDR3012, EDR3909, EDR4008

EP

EP7, EP10, EP13

EPC

EPC11.5, EPC13, EPC19, EPC25

EQ

EQ2512, EQ2610, EQ3209, EQ4013,

POT

POT3016, POT3930

PQ

PQ2016, PQ2020, PQ2625, PQ2620, PQ3225, PQ3520, PQ3525, PQ3535, PQ4040, PQ49

RM

RM6, RM8, RM10, RM12, RM14

2

Common mode chokes(Line filters)

UU

UU9.8, UU10.5, UU16

ET

ET20, ET24, ET28, ET35

SQ

SQ1212, SQ1515, SQ2418

FT

FT20-22, FT20-21, FT20-15, FT20-13, FT20-10

Toroidal

6X3X2, 6X3X3, 8X5X3, 9X5X3, 9X5X4, 10X6X3, 10X6X3.5, 10X6X5, 13X8X6, 14X9X5, 20X12X6, 22X14X8, 25X15X10, 5X15X12, 25X15X13, 28X14X10, 31X19X11, 31X19X13, 32X14X11,36X23X15, 38X18X13, 49X32X16 (Ferrite core); 16X10X6, 20X12.5X8, 25X16X10, 30X20X10, 30X20X15, 40X25X15, 50X40X20, 63X50X25, 80X63X25, 100X80X25, 130X100X25(Nanocrystalline core)

3

Inductors(Choke coils)

Peaking/Drum

4*6, 5*7, 6*8, 8*10, 9*12, 10*12, 10*16, 14*15, 16*18, 18*20

Toroidal

6X3X2, 6X3X3, 8X5X3, 9X5X3, 9X5X4, 10X5X4,10X6X3, 10X6X3.5, 10X6X5, 13X8X6, 14X9X5, 20X12X6, 22X14X8, 25X15X10, 25X15X12, 28X14X10, 31X19X11, 31X19X13, 32X14X11,36X23X15, 38X18X13, 49X32X16

Rod

3X12, 3X15, 4X15, 4X20, 5X15, 5X20, 5X25, 5X30, 6X15, 6X20, 6X25, 6X30, 6X32, 6X35, 8X20, 8X30

4

SMD power inductors

Unshielded

MT, MTQ, MTF, MTG

Shielded

MTH, MTHII, MTP, MTB, MTE, MTL, MTF

5

Low frequency transformers

EI

EI14, EI16,EI19, EI24,EI28, EI30, EI35, EI38.5, EI41,EI48, EI57, EI60, EI66, EI74, EI76, EI86, EI96, EI105, EI114

Toroidal

OD:40mm---130mm;ID:20mm---100mmm;H:10mm---50mm.

6

Planar transformer

EI

Ei22

7

CT

UF

UF15,Zero sequence current transformer, precision current transformer

8

Coil

T

185*60,23.8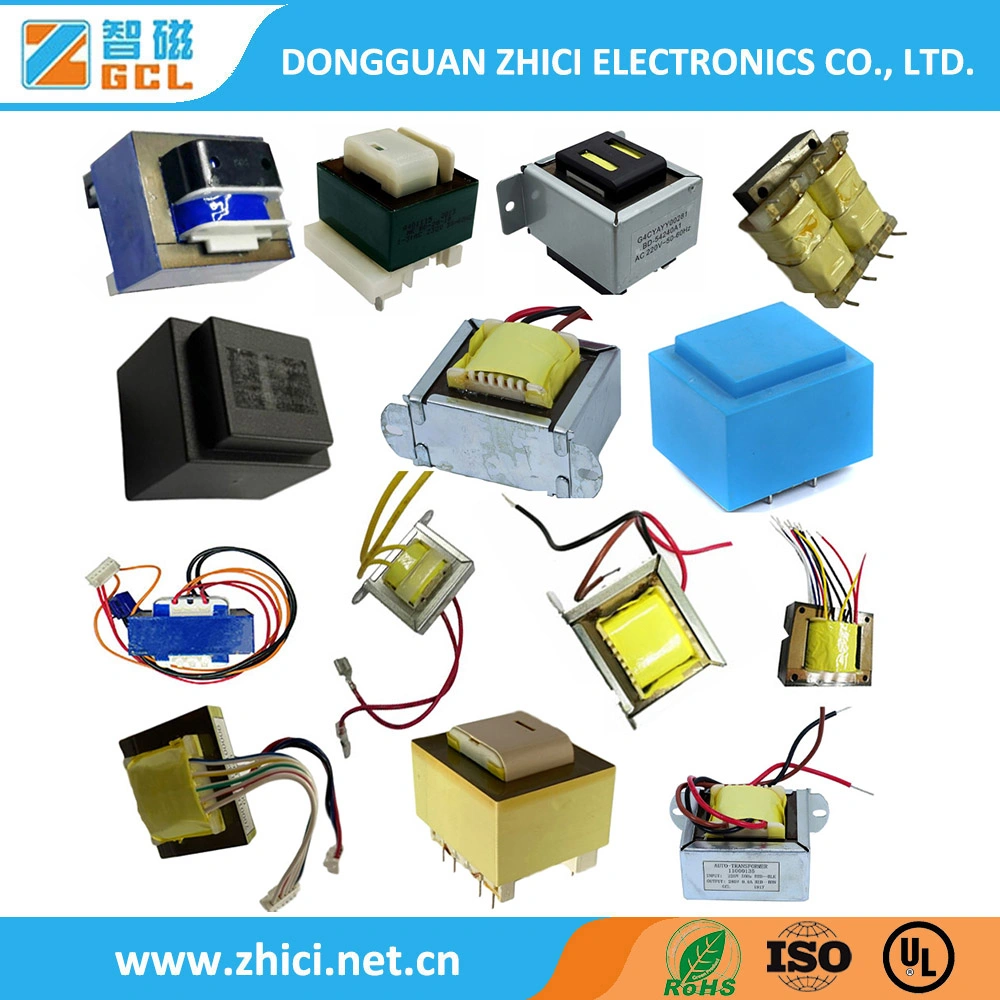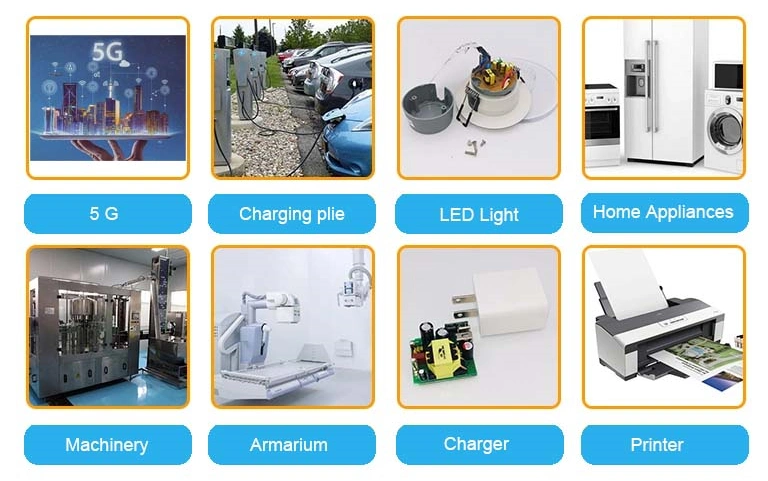 Equipment Exhibition
Our main equipments contained: 256 sets of automatic winding machines; 2 sets of automatic infrared drying tunnel furnace; the lab for car magnetic products; 1set of salt spray test machine,1 set of high-temperature storage test machine, 1 set of high humidity test machine and a set of old and heat shock test machine; 6 sets of automatic vacuum dipping machines; 3, fully automatic soldering machines, 600 set accessory Machines.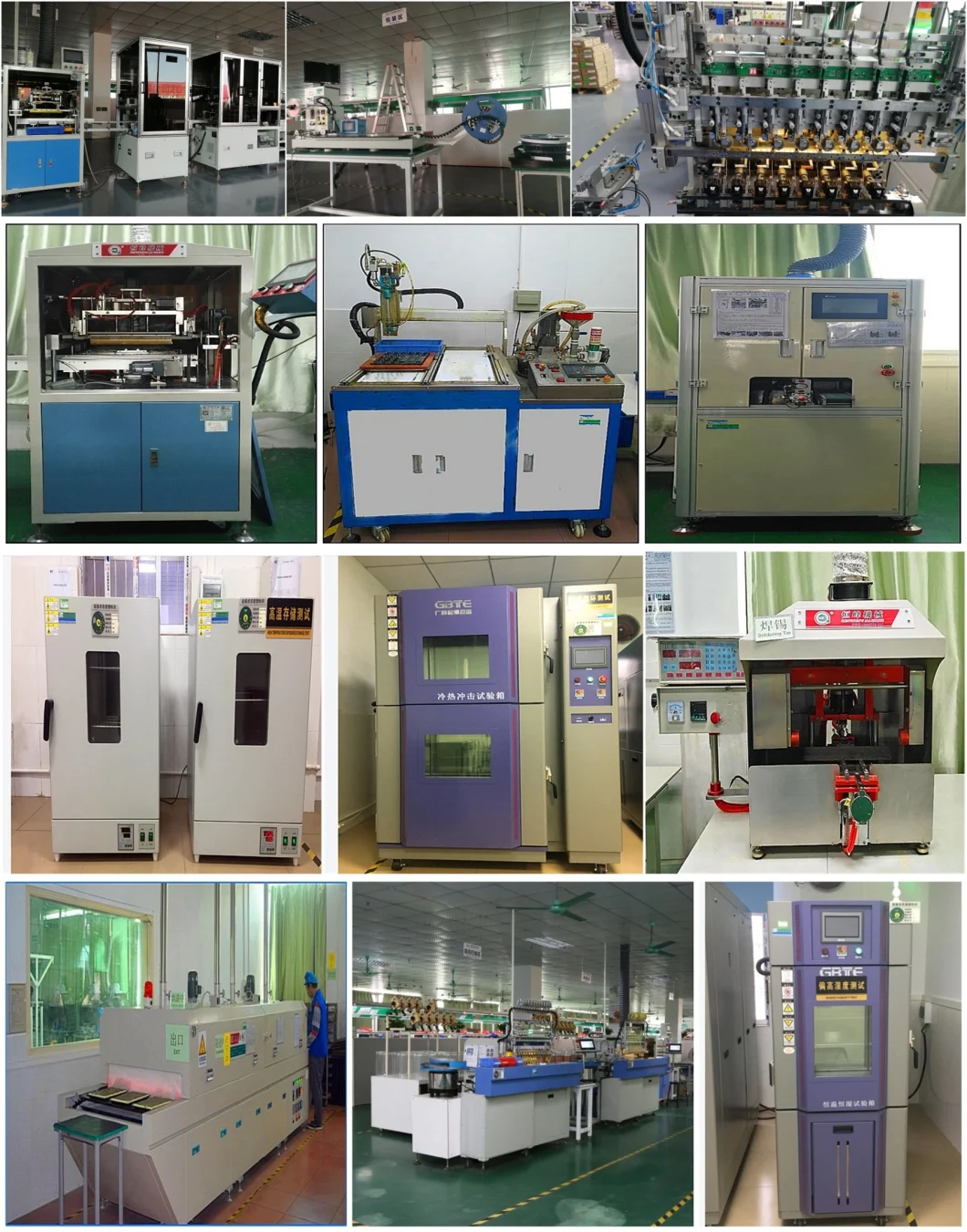 Company Advantages
1. We are a professional Magnetic component manufacturer with over 16 years of experience in designing and producing and Exporting.

2. Big production capacity: The factory acreage is about 24800 square meters, total production capacity reached 8 million pieces of transformer series per month.
3. Strictly QC inspecting rules: all products must be 100% inspected before delivery.
4. OEM/ODM services are available.
5.
We have an independent order system, with the overall tracking function from raw materials purchasing to finished goods outgoing.
6.
We have got ISO9001:2015 quality management system; ISO14001:2015 environment management system; health and safety management systems-Requirement, IATF16949, UL certification.
7. Independent laboratory for car magnetic. It meets all the car component test.
8. We have 2 factories which can meet
a variety of demands
.
Our
C
ertification
s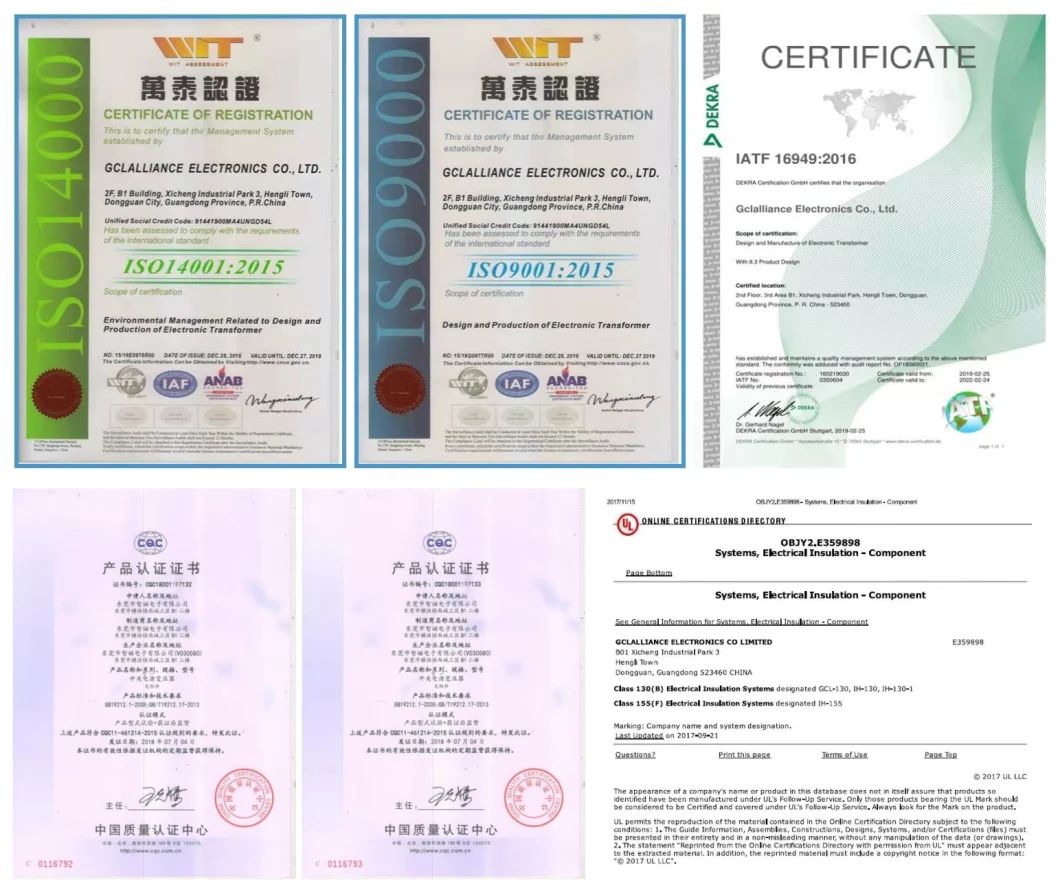 Our
P
artners
Our superior quality, competitive price and excellent services
we
enjoyed a high reputation and keep reliable cooperation with the global valued
company,
Sincerely Look forward to working with you, we'll be sure your Loyal partner.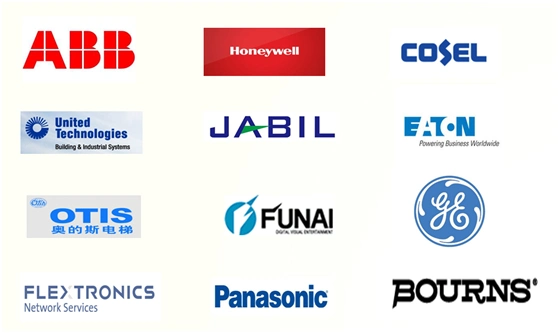 Payment and Shipping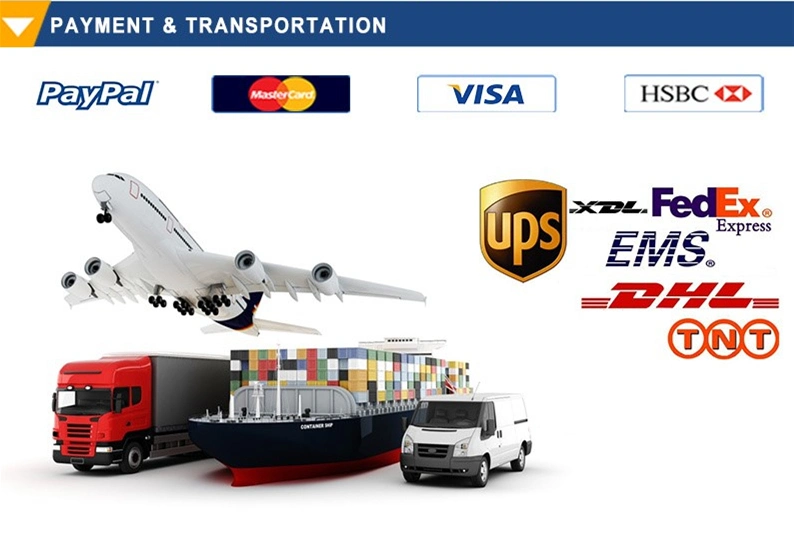 FAQ
Q1: Are you a manufacturer or trading company?
A: We are a manufacturer with over 16 years of manufacturering experience.
Q2: What kind of products do you produce?
A: We have abundant strength which integrates design, production, selling of transformer, inductor, filter, etc
.
Q3: Can you accept to use our logo?
A:
Yes, We accept OEM and ODM production.
Q4:
Can you provide free samples?
A:
Yes, we can provide free samples, Exact Qty can be negotiable.