EPTTR
TRANSFORMER TURN RATIO TESTER
General Information:
Turns ratio test is very important in order to find out the transformer has the right ratio corresponding on its rated voltage in primary and secondary. EPTTR is three phase, automatically test set specially designed for turns ratio, group test, PT and CT polarity measurements of power, distribution and instrument transformer.
Features:
Lithium battery power supply or 100-240V AC power supply is self-adaptive. After one charge, more than 100 transformers can be continuously tested in the ratio group. The test process is simple and convenient.
It has the function of blind measurement, that is, to perform variable ratio and group test when there is no connection between high and low voltage.
Based on the test of conventional transformer, Z-type transformer and PT sample, the polarity test function of CT variable ratio is added, and the application field is wider.
Wide range and high accuracy, the variable ratio measurement range can reach 10,000, and the test accuracy can be guaranteed 0.3% when the maximum value is 10,000.
It has perfect protection functions such as reverse connection protection and output short circuit protection.
5.6-inch super industrial high-brightness color LCD screen, still visible under strong sunlight.
Equipped with printer, facilitate data printing.
It can be stored locally and on USB memory.
Specifications

Range

0.9~10000

Accuracy

±(Reading×0.1%+2 words)(≤500)

±(Reading×0.2%+2 words)(>500≤3000)

±(Reading×0.3%+2 words)(>3000)

Resolution ration

0.9~9.9999(0.0001)

10~99.999(0.001)

100~999.99(0.01)

1000~9999.9(0.1)

10000 and above(1)

Working power supply

The built-in battery or external charger, charger conditions of use, Input 100-240 VAC,50/60 HZ

Charging time

About 3 hours

Weight

3.8 kg

Oversize

325*225*125mm

Working temperature

-10ºC~50ºC

Relative humidity

≤90%, RH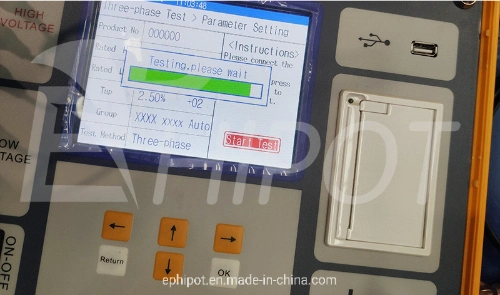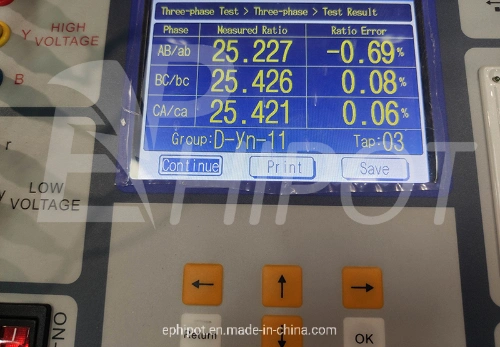 More details on TTR Tester EPTTR Sereis please contact EPHipot Electric, we have professional tech team to design correctly designed products and systems.